No Title

No Title

No information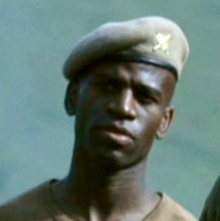 "Eagle" is the psuedonym of a minor character in the first Alex Rider novel: Stormbreaker. Eagle was part of Alex's training unit (see K-Unit) in the SAS camp, Brecon Beacons.
Physical Appearance
Edit to add content.
Personality
Edit to add content.
Career
Edit to add content.
Trivia
Eagle is often depicted as a young, hyper, childish man in fanon.
Sources
Photo: none
General information: various sources, including but not limited to:
Ad blocker interference detected!
Wikia is a free-to-use site that makes money from advertising. We have a modified experience for viewers using ad blockers

Wikia is not accessible if you've made further modifications. Remove the custom ad blocker rule(s) and the page will load as expected.