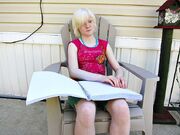 High school debate team to be judged by Anthony Horowitz among others.
Read the article at Salisbury Journal.
Actors John Duttine and Mel Martin rennovated Horowitz's old vacation home.
Read the article at Mail Online.
A panel of judges, led by Horowitz, decided the best vacation destinations in celebration of the Sunday Telegraph's 50th anniversary.
Read the article at The Telegraph UK.
Young blind girl enjoys "reading" Snakehead with her hands.
Ad blocker interference detected!
Wikia is a free-to-use site that makes money from advertising. We have a modified experience for viewers using ad blockers

Wikia is not accessible if you've made further modifications. Remove the custom ad blocker rule(s) and the page will load as expected.